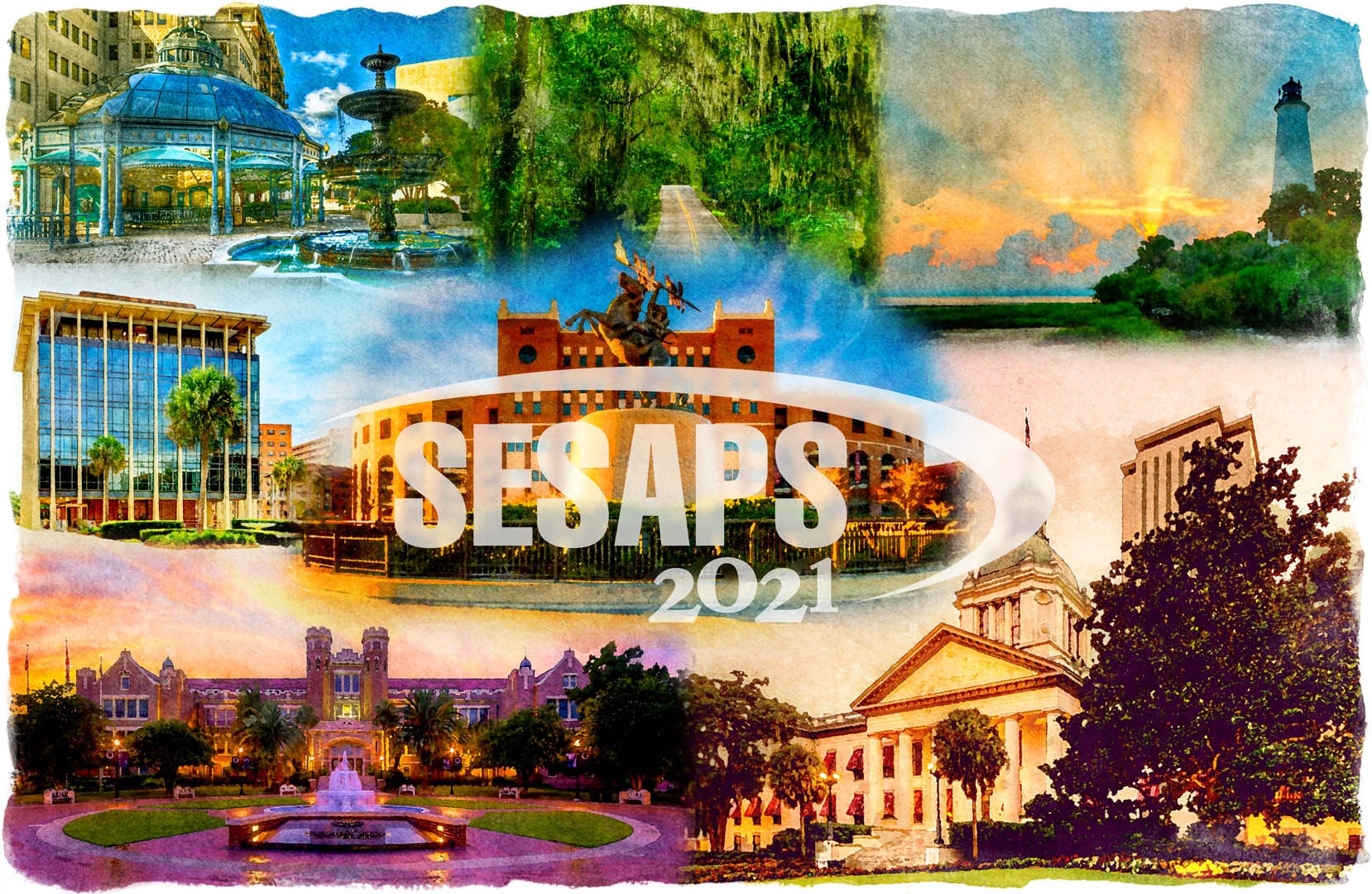 88th Annual Meeting of the APS Southeastern Section
November 18th - 20th, 2021
University Center Club
Florida State University
Important note: GROUP PHOTO: We will have our group photo taken at the front of the building on the ground floor in front of the Unconquered statue at 12:30 PM on Friday, the start of lunch.
Please make your way there after the last morning session. Thank you.
Introduction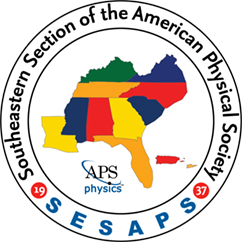 We are honored to welcome you November 18th - 20th, 2021 to Tallahassee, FL for the 88th Annual Meeting of the Southeastern Section of the American Physical Society (SESAPS). SESAPS 2021 is planned to be a full in-person meeting (barring circumstances) at the University Center Club at Florida State University, inside the Doak Campbell stadium. Established in 1937, the objective of SESAPS is the advancement and diffusion of knowledge of physics within the southeastern region of the United States, including the states of Alabama, Florida, Georgia, Kentucky, Louisiana, Mississippi, North Carolina, South Carolina, Tennessee, and Virginia; the Commonwealth of Puerto Rico; and the US Virgin Islands. Graduate and undergraduate students are especially welcome and encouraged to attend and submit an abstract for presentation. Limited travel support is available. We will also have numerous exciting special sessions, including a session to promote discussion on diversity issues in physics.
The meeting includes plenary and parallel sessions covering a broad range of current topics in physics research, a student poster session, a graduate program fair, and the presentation of the annual SESAPS awards in teaching (Pegram), research (Beams), and service (Slack). Poster presenters will have the chance to compete for a prize. The meeting banquet will feature a keynote address aimed towards a general audience--stay tuned for the announcement of the speaker!
Should you have any questions, please don't hesitate to contact the SESAPS21 local organizing committee at sesaps21@physics.fsu.edu.
COVID measures during the conference
We all have an obligation to prevent further transmission of COVID-19. We are in this together, and each and every one of us plays an important role in furthering the health and safety of ourselves, our neighbors, and our loved ones.
As the meeting is held on campus, all participants must observe the following Florida State University guidelines:
We expect everyone to wear a face covering or mask at all times when inside any FSU facility, even if you are vaccinated. This includes all of our students, faculty, staff, vendors, and visitors.
We expect everyone to be fully vaccinated against COVID-19, even if you've had COVID-19 in the past.
We expect you to stay home when sick, self-quarantine, and get tested for COVID-19 no sooner than 24 hours after your symptoms begin.
And finally, we expect you to continue to practice good hygiene habits such as washing your hands frequently.
We plan to provide masks for all participants, including additional masks so that all participants can change them out a few times during the day. We will arrange the seating such that participants can be adequately distanced from one another during the sessions. We will also have hand sanitizer stations and cleaning supplies, such as Lysol wipes, available throughout the venue during the conference. There will be an outside area next to the session rooms that can be used for coffee breaks, poster sessions, and other events for which social distancing is difficult.
Important Dates
Abstract Submission open: August 1, 2021
Abstract Submission deadline: September 30, 2021
Student Travel Support Form Application deadline: October 7, 2021
Code of Conduct for APS Meetings
Grad School Fair
A free Graduate School Fair has been scheduled on Thursday, November 18 at 11:30 am as part of SESAPS 2021.
Institutions interested in participating, please contact the local organizing committee at sesaps21@physics.fsu.edu
This is a great opportunity to highlight your graduate program to interested students.
Lodging & Travel
Lodging
Hyatt House
1100 Railroad Ave Tallahassee, FL 32310
$159 USD per night
Booking code for travel agents: G-FSDP
Rate guaranteed only if booked by November 3
Hampton Inn
824 Railroad Ave Tallahassee, FL 32310
$159 USD per night
Available reservation dates between November 17th and 20th
Booking code for travel agents: PNC
Rate guaranteed only if booked by October 27
Residence Inn by Marriott
600 W. Gaines St. Tallahassee, Florida 32304
$129 USD per night
Available reservation dates between November 15th and 20th
Booking code for travel agents: SESO
Discounted rate available on a first-come, first-served basis. Please contact Ashley Marshall at (850) 329-9080 ext. 2007 or ashley.marshall@marriott.com to book, mentioning SESAPS21 in your correspondence.
Student Travel
Limited support for travel is available to students. To qualify, both the student and the student's research advisor (or local sponsor if appropriate) must be members of SESAPS; the student must be the first author/presenter in a SESAPS session. Questions can be addressed to:
SESAPSTravelGrants@gmail.com
Transportation
Cars can be rented at the Tallahassee Airport from the major national brands. The car rental desks are located across from the luggage carousels. The hotels and conference venue are a 15-minute drive from the airport. Heavy traffic is rare.
The Residence Inn and Hampton Inn both provide airport shuttles. Rides to the airport can be reserved from the hotel front desks. For airport pickups, please see hotel-specific instructions below.
Residence Inn: shuttle operates daily 8 AM - 10 PM. Call (850) 329-9080 once you have landed and collected your luggage for a pickup. It takes 15-20 minutes for the driver to arrive.
Hampton Inn: Airport pickups must be scheduled in advance by calling (850) 692-7150. Then, once you have landed, please call the hotel again to let them know.
The Uber and Lyft ride-hailing services as well as city taxis can be used to get from the airport to the hotel or conference venue. There are usually only a few taxis waiting at the airport to meet each flight, so it is best to schedule these in advance. Similarly, because the airport is a few miles outside of the city center, it can take 10-20 minutes, depending on the time of day, for an Uber or Lyft to arrive. It only takes a few minutes to walk from the plane arrival gate to the airport exit if you do not have checked luggage. Taxi phone numbers are below.
City Taxi Inc. | 850-575-7575
Tallahassee Yellow Cab | 850-999-9999
The conference hotels are all approximately 1.2 miles from the venue, making for a nice walk through the Collegetown neighborhood. The StarMetro "T" line bus runs down Gaines Street every 30 minutes on weekdays. The trip planner, virtual token, and find-my-bus apps described here are helpful for navigating the city bus.
From the conference venue or the hotels, the FSU campus, Collegetown neighborhood, and Railroad Square Art Park can be accessed on foot. There is sufficient Uber and Lyft coverage in the city to easily travel further afield, for example to downtown, Cascades Park, or Midtown. The StarMetro bus system is cheap and easy to navigate, but less convenient than ride-hailing services.
Guest parking at the Hyatt House and Hampton Inn costs $12/day. Guest parking at the Residence Inn costs $20/day, but there is a complimentary city-owned parking lot adjacent to the hotel. Parking at the conference venue is free with validation at the SESAPS21 registration desk. Street parking can be paid with the ParkMobile app.